After round about 1000 kilometers on the road, the glider could finally be stored in our hangar at my club Flugsportvereinigung Celle in the Lüneburg Heath. I have been quite excited about picking up "my" sponsored LS1f-neo at DG Flugzeugbau on December, 7 last winter, and I was wondering how the alterations on the glider would enhance its flight qualities. All pilots who so far have had the chance to fly it were positively surprised and praised its new performance. So I was quite curious. I have owned an unmodified LS1f before and was therefore excited about the difference in flight qualities. A highly regarded flight instructor had once told me: "Whatever looks great will also fly great." As for its appearance the 1neo may really score. Each look along the wings and across these really well done winglets makes you feel happy. It's pure eye-candy.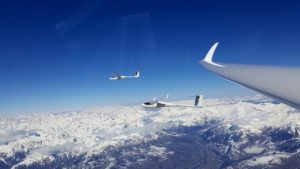 Unfortunately our northern German soaring season did not as usually start with some nice ridge days on the Weser Uplands. Neither did we see any of those crispy and awesome March thermals over the Heath, so I had to wait for a long time until I could leave to Southern France for vacation. We arrived there on March, 24, were warmly welcomed by the spring, and finally were able to enjoy some marvelous flights. I teamed up with my old D-Cadre buddies who piloted an ASW24 and an ASW19. The 1neo's great performance was striking, all the time. No wonder! The glider simply looks great…
Flying in thermals I had always found the LS1 a very comfortable ship; however the new fuselage to wing intersection and the winglets seem to have a very positive effect. When circling it feels like flying a sailplane of a newer generation. Also in straight flight it has advantages in all speed ranges. I am very taken with the LS1 and now we are hoping for a good season with terrific weather conditions and some extraordinary flights!
Nico Meißner, Apr. 2018