Versatility Without Compromise
The DG1001S neo is more versatile than any other double-seater. The high, electrically operated landing gear ensures comfort and safety. Alternatively, a low, manually operated retractable undercarriage with nose wheel is available. With its three available wingspans (17.2m / 18m / 20m) it masters every discipline from aerobatics and training to performance-oriented cross-country flying. Especially in clubs this is an important requirement for long-lasting utilisation and a high fun factor! If required, we can prepare the installation of a FES or a 2-stroke sustainer system.
Standard Equipment
The DG1001S neo is offered with the following standard equipment:
20m wingspan with neo winglets
electrically operated, high, landing gear (no nose-wheel)
manually operated, low, landing gear (incl. nose-wheel) – optional
T-35 UP finish
carbon fibre wings
wing parting
double storeyed air-brakes
large wheels on wing-tips
automatics hook-ups on all control surfaces
3D tubulators and sealing of all control surfaces
trim weight box in vertical stabilizer
tail wheel
nose and CG hook
Piggott-Hook incl. parking brake
VHF-antenna 
Prandtl-M-Adapter (ESA-Systems)
registration number (vinyl)
safety cockpit
prepared for installation of oxygen
4-point schroth hernesses
energy absorbing seat cushions
head rests
canopy cover (cotton)
maidenflight done, ready for pick up at DG Flugzeugbau
Options
Some of the most important options available for DG1001S neo
17,2m aerobatic wingtips
18m neo winglets
manually operated, low, landing gear (incl. nose-wheel)
Preparation for FES or 2-stroke sustainer system
canopy warning
landing gear warning
trim weight boxes in front cockpit
oxygen bottle mount
tail battery 12V/14Ah
add. battery in baggage compartment (led-acid or LiFePo4)
add. backrest in front cockpit for small pilots
5-point harnesses 
Gadringer harnesses
add. map pocket in rear cockpit
tail dolly
set of trimm weights including wooden transport box
tie-down points on wings
Dolba BD12 FLARM antenna in vertical stabilizer
transponder preparation
More options available on demand.
We can send you an individual offer incl. avionics and trailer. Please contact our sales department for more details.
Press / Media
Technical Details
| | | | | |
| --- | --- | --- | --- | --- |
| wing span | m | 17,2 | 18 | 20 |
| wing area | m² | 16,3 | 16,72 | 17,53 |
| aspect ratio | / | 18,15 | 19,38 | 22,82 |
| length | m | 8,57 | 8,57 | 8,57 |
| height | m | 1,8 | 1,8 | 1,8 |
| maximum speed | km/h | 270 | 270 | 270 |
| waterballast in wings | l | 160 | 160 | 160 |
| MTOW | kg | 750 | 750 | 790 |
| MTOW for unlimited aerobatics (CAT. A) | kg | 630 | – | – |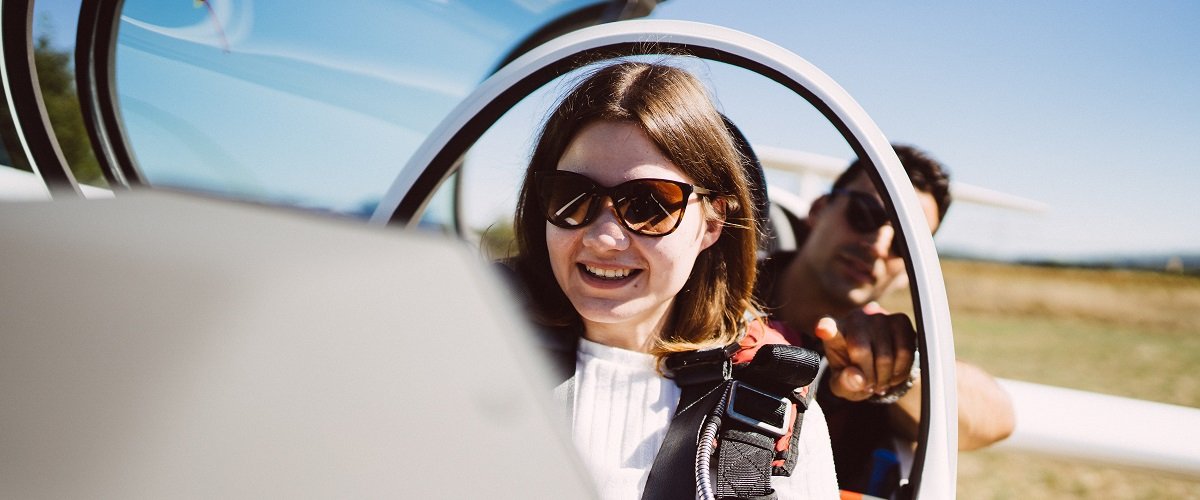 Flexible Like No Other
Thanks to its 3 different wingspans, the DG1001S neo is an all-rounder par excellence. No matter if you want to do unlimited aerobatics, training or cross-country flying, everything is possible.
Read more
Wingspans
Since the wing parting is a serial standard, the DG1001S neo can be flown with different wingspans.
In the basic version the DG1001S neo is delivered with 20m span and neo winglets. The new outboard wing works perfect especially at high wing loadings and improves handling as well as climbing in thermals.
With 17.2m wingspan the DG1001 becomes an aerobatic machine. It is even certified for Cat. A, which not only makes it suitable for aerobatic training, but also enables the pilot to fly more advanced programmes and figures.
The 18m neo outer wings can also be fitted. With them you get a compact, highly manoeuvrable and above all good-natured two-seater that is suitable for training. This is important, especially for clubs where a glider must be able to fulfil several requirements.
Landing Gear Options
The standard high, electric landing gear combines safety and comfort. Thanks to the absence of a nose wheel, it gives the DG1001's fuselage perfect aerodynamics.
Optionally, the DG1001S is also available with a low, manually operated retractable landing gear. The 4″ nose wheel of this landing gear version has been replaced by a 3″ nose wheel with high quality aluminium rim from Tost. This version is perfect for all clubs that not only want to fly cross country but also want to use the aircraft for training. The low entry is comparable to other training double-seaters and young as well as old pilots find the entry a little easier.
Propulsion Systems
If required, we can prepare your aircraft for the installation of a FES or a 2-stroke sustainer system. Of course, the engine can also be installed right from the start. This is also an interesting aspect with regard to the resale value.
Training at The Highest Level
With 18m wingspan and neo winglets your DG1001S becomes a training aircraft. Easy handling on the ground and agile, good-natured flight characteristics distinguish the two-seater in this configuration!
Read more
Slow flight
With the centre of gravity in the forward position, the DG1001 can be kept stable in a deep stall. If the centre of gravity is gradually lowered by using the trim weights, the tendency to stall slowly increases. However, the glider remains easily controllable over the entire CG range and quickly terminates the stalled flight condition when the stick is released.
Spin
If you set the centre of gravity to the aft range via the trim weights, the DG1001 is excellent for spin training. The glider can be induced and recovered using standard procedures and exhibits the behaviour of modern plastic gliders.
Unlike older generation aircraft, modern plastic aircraft spin alternately steep and flat. A characteristic that cannot be simulated with old training two-seaters in mixed or wooden design. With the DG1001, students are thus specifically prepared for the flight behaviour of modern aircraft.
Performance
The flight performance in 18m is comparable to old standard class aircraft and thus far better than comparable training two-seaters.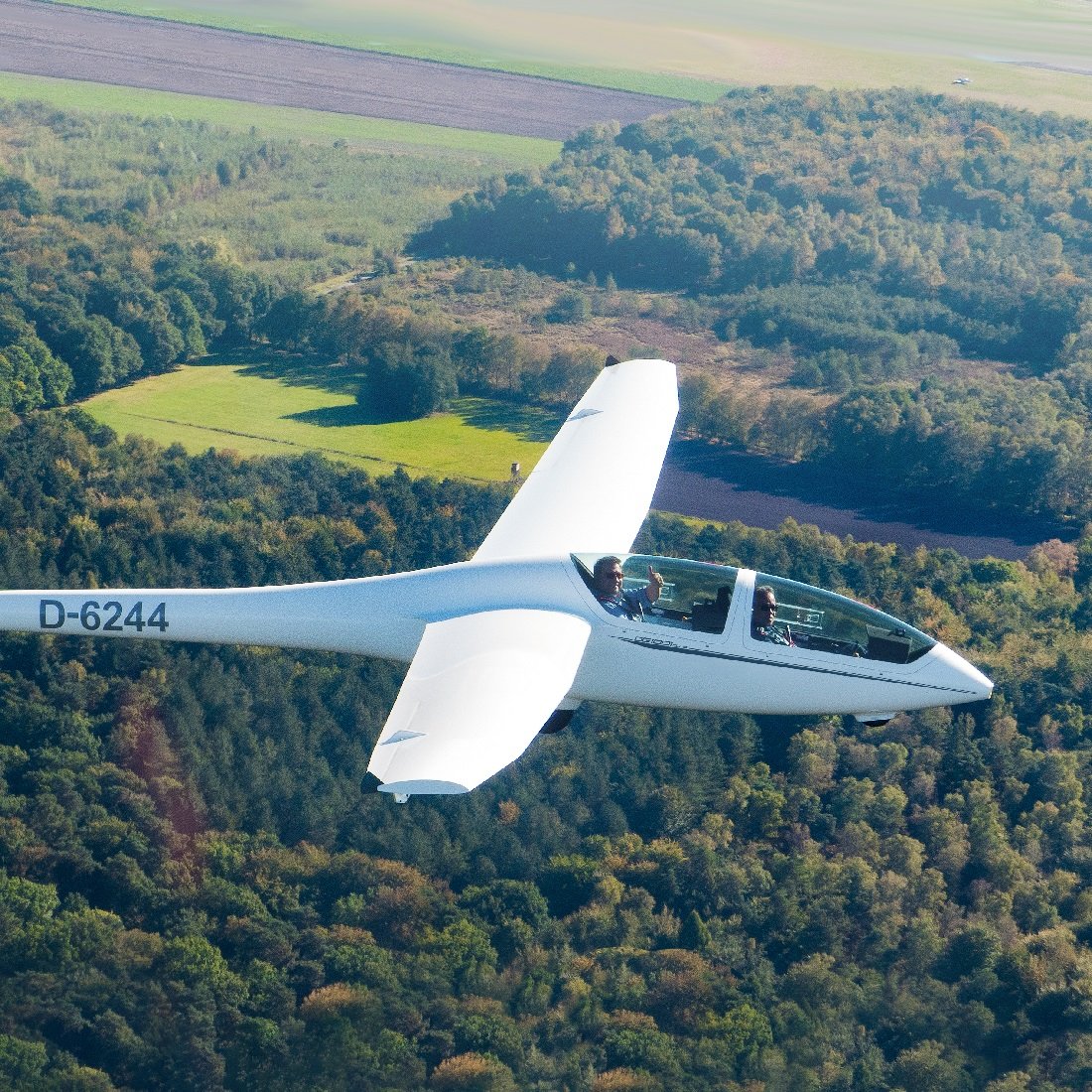 Aerobatics
A 20m double-seater with which you can also perform aerobatics is the dream of many customers. It ensures a consistently high utilisation throughout the year, especially in clubs. The DG1001S has been equipped with wing tips that reduce the wingspan to 17.2m. This allows not only simple aerobatics, but also category A aerobatic manoeuvres.

Flying Cross-Country
The new outer wing with neo winglet has been designed with new profiles from the separation point onwards. It gives more feedback in thermals and improves handling and climb. The new design fits perfectly to the silhouette of the DG-1001 and underlines the sporty look. Experience the neo feeling with a wingspan of 20m!
Setting Your CG
The trim weight boxes in the front cockpit and the trim box in the fin offer maximum flexibility choosing the right centre of gravity. Light as well as heavy pilots can adjust the glider to their needs and as an instructor you get the rare opportunity to demonstrate the influence of the centre of gravity in a simple way.
All too complicated, elaborate or dangerous? Find out why it's definately not here…
Read more
Trim weights in the cockpit are standard on all gliders. But the possibility of compensating cockpit load with weights in the fin as well is not very common. Often these weights are used solely to perform spin exercises. But in the DG1001 family, the centre of gravity can be adjusted for all flight purposes.
However, some people think using the trim weights is too cumbersome or inconvenient. The easiest solution is to simply leave the box empty. You can use the trim box, but you don't have to.  It is not necessary to adjust the weights ahead of every launch. Analogue to other training double-seaters, you can fly with a front CG setup as well.
To make choosing the correct centre of gravity as easy as possible, each glider is supplied with a trim chart which makes it very easy to determine the correct number of trim weights.
A practical way for use in a club is to determine the lightest pilot/co-pilot combination o the day and set the trim weights accordingly. You then can use this setup and fly all day without touching the trim weights at all. 
Only for spinning and aerobatics it is necessary to use the trim box in the tail according to the chart.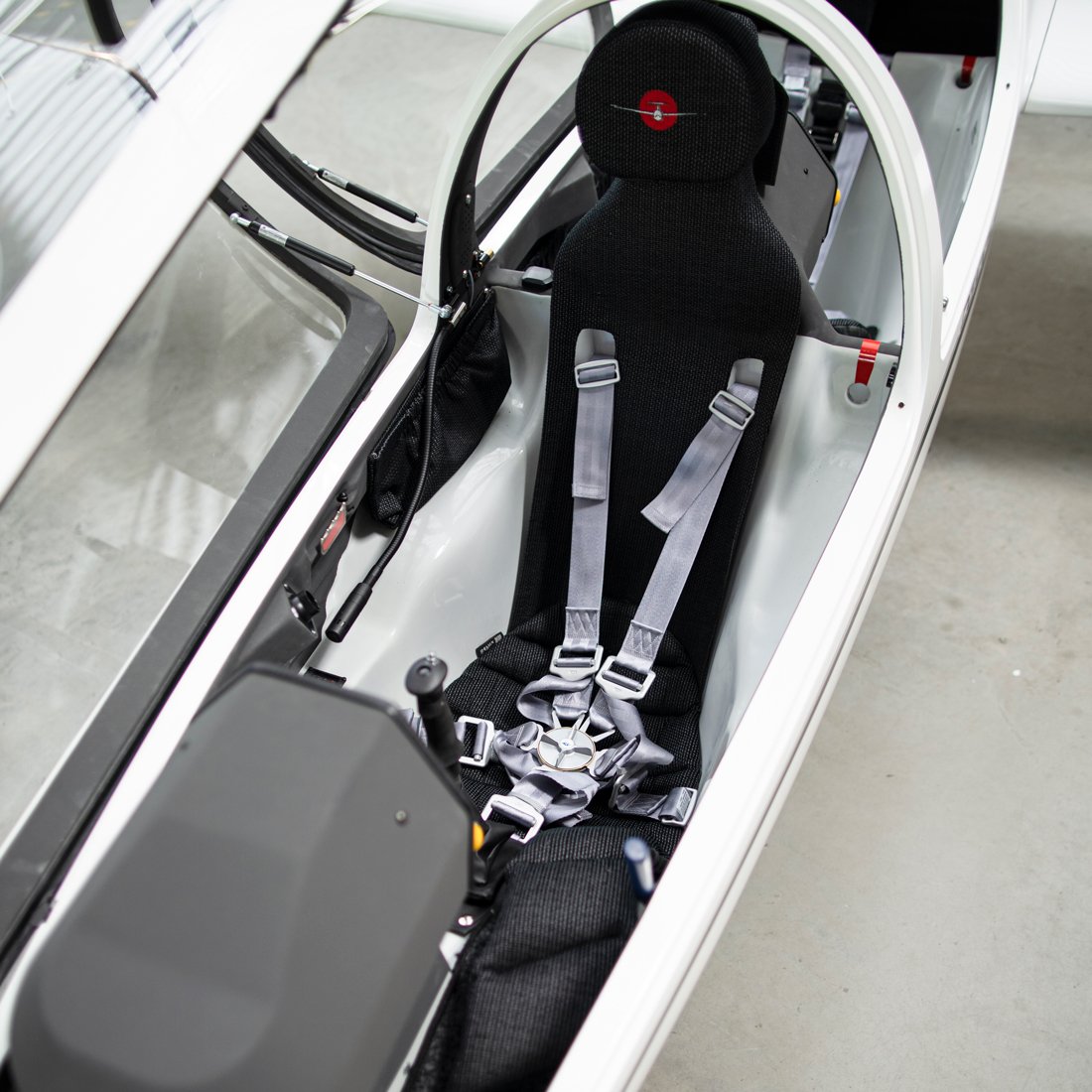 Keeping You Safe
The state-of-the-art cockpit with it's bonded structural elements ensures maximum safety. Together with the main wheel damped by steel springs, the DG1001Club neo can absorb more energy in a crash than comparable aircraft.
A high-quality interior with a modern, timeless design guarantees a good feeling while flying. The seat ergonomics allow long flights without fatigue even in the DG1001's training version.
Read more
To improve visibility in the air, a flash light is available for the DG1001 in the fuselage nose.
The integrated hardware can be connected to a FLARM device and thus controls the flash interval depending on the collision warning levels. The video illustrates how it works.
Flying without limits!
The DG1001 can be equipped with a hand rudder system when combined with fixed or electrically operated landing gear. The lever on the left side of the cockpit, which replaces the one used for the manual retractable undercarriage, is used for rudder control and enables people with disabilities to enjoy the beauty of our sport.
Tip: Many organisations and countries support schemes to improve participation of people with disabilities in sport.