Winglets for the DG-800/18 m wing tips
When developing the DG-800, the wing plan form was designed especially for 18m wingspan. The mini-winglets at the 18m tips provide, together with the wing-planform the lowest induced drag and are the reason for the outstanding climb capability in thermals.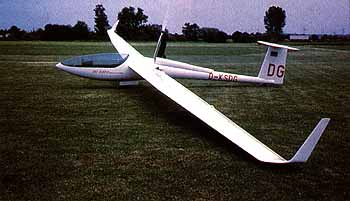 So it was not an easy task to improve the performance by adding winglets to the 18 m tips. A first try with winglets with 30 cm (12 in.) height didn't give any measurable increase in performance.
To enhance the performance with 18m wingspan, despite the facts mentioned above, winglets with 50 cm (20 in.) height, using a new design philosophy have been developed together with the Delft Technical University. Flight tests proved a gain of 1.5 points L over D and astonishingly better performance even at high speeds.
Based on these favorable result the decision was taken to offer such winglets as an option for all DG-800 models. Retrofit to all DG-800 already flying is possible. The winglets are removable so that also wings without removable 18 m extensions may be equipped with these winglets.
In the meantime the flight test program for the motorglider versions DG-800A and DG-800B could be finished. Tests for the DG-800S are also done.
Retrofit of the winglets is possible at the DG factory or with their representatives.
– DG Flugzeugbau GmbH
– Dipl. Ing. Wilhelm Dirks –