We are happy we may now introduce our new sales representative in the US and in Canada. Paul Remde, who as the owner of Cumulus Soaring Inc. is well known in North America, will start on March 1st to work as our agent for DG Flugzeugbau in the United States and Canada.
Through his platform, Cumulus Soaring, Paul is distributing numerous products for the soaring community. From avionics, to clothing and up to oxygen systems customers may order a great variety of different products from Paul. What's more he also offers a huge support with (educational) videos and via his hotline.
Paul introduces himself as follows: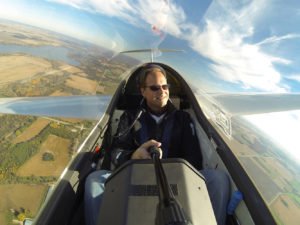 I have been flying gliders since 1990.  I'm a very technical person who loves talking about soaring, badge flying, soaring instruments, GPSs, etc.   I am knowledgeable about badge, record, contest and aerobatic flying, and ready to help you select and use the right instruments and software for your soaring needs.  I hold all the FAI Badge legs for my Bronze, Silver, Gold and Diamond badges – with the exception of the altitude gain legs (which are nearly impossible to obtain in Minnesota).  I have flown in many soaring contests, acted as Competition Director in 2 contests, Contest Manager in 2 contests, and have won 10 Minnesota state soaring records.  I have owned several sailplanes including a Schempp-Hirth Ventus b and a Schweizer 1-35c.  I currently own a share of a lovely DG-1000S.  My best soaring flight so far was an 800+ km OLC (free distance) flight in the DG-1000 with Dick Andrews from Nephi, Utah in 2015 – what a spectacular place to soar! Another favorite flight was a 520 km flight from Minnesota to near Jolliet, Illinois in a Schweizer 1-35c.  I am an active member of the Minnesota Soaring Club.  I am blessed with an amazing family. 
Customers in the US as well as in Canada may contact Paul Remde here:
Cumulus Soaring, Inc.
8661 Connelly Place / Savage, MN 55378-2169 / USA
http://www.cumulus-soaring.com
1-952-445-9033