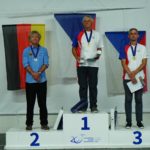 Congratulations to Pavel Louzecky, Robert Schroeder and Miloslav Cink! They completely filled up the podium in Standard Class with their LS8!
In Club Class Tom Arscott from GB was able to win with his LS7. Uwe Walig from Team Germany ranked 3rd with his LS3.
We would also like to congratulate our German Team mate Jan Omsels for his 3rd place on Ventus 3T. 
Lots of competition days and challanging tasks, above mountain terrain made the EGCs in Prividza a successfull competition. Almost 10.000 points after 12 competition days impressively show the very nice conditions the competitors had in Slovakia. We'd like to wish lots of success for all participants in future and many happy landings!