by Harald Ölschläger, chief trainer for gliding instructors of  Baden Württemberg's BWLV e.V.
During our training seminar with Baden Württemberg's new flight instructors in Mai 2018 we have been able to take advantage of a DG-1001 Club neo which we could extensively test in all training configurations.
Rigging and / or derigging the sailplane is fairly effortless and trouble free. Changing between three optional wing spans is also easy and quickly done. Thanks to the trim weights in the vertical tail, the optimal position of the center of gravity may be adapted straightforwardly.
Ground handling as well as changing pilots on both seats is very comfortable, because with the fixed gear the cockpit can nicely be leaned forward. On both seats, pilots enjoy a good sitting posture, all instruments and controls are well operable. Only the wide frame between the two canopies seems to be a little hindering. From the rear seat the visibility is somewhat limited, and the pilot in the front seat feels bothered by the frame during circling.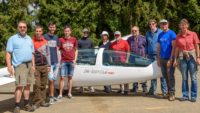 We were allowed to cover all elements of glider training with the DG-1001 Club neo, performing winch launches and aero tows during the training. The aircraft and its unproblematic flight qualities turned out to be the best solution for all training sections. Due to its different wing span options it does not only comply with various training demands, the glider is also great for aerobatic training and an excellent choice for cross countries. Without any problems, you may well introduce a student to long distance flights or show him how to manage critical flight attitudes.
Approach and landing procedures are uncomplicated and do not demand any special pilot skills. With the effective airbrakes your final glide is very well maneuverable and thanks to the good wheel brakes the airplane can be stopped up with utmost precision.
Summing up the experiences made with the DG-1001 Club neo during the instructor training seminar I may conclude that the glider is an optimal training ship. After directly comparing various training two seaters during the seminar it's quite obvious that DG makes the best offer.